This homemade version snack bar is a MUST TRY for everyone including people who have never cooked in their lifetime. It makes an excellent start to the day especially with yogurt and fresh fruit ie strawberries, bananas etc. It can also be a healthy snack during teatime. It is also cheaper as compared to those healthy bars sold in the supermarket.
All you need to prepare is: the ingredients, non-stick pan, wooden spoon, baking tin (or any rectangular-shape container), greaseproof paper and presser.
I had adapted and combined 2 recipes from Children's Healthy & Fun Cookbook to derive at this simplified version.
Ingredients:
40g rolled oats
40g sunflower seeds
40g pumpkin seeds
Handful of black and white sesame seeds
3-4 tbsp clear running honey (I used no water added honey)

Methods:

Heat up the pan.
Put the black and white sesame seeds in a non-stick and dry fry (without oil) with a wooden spoon over a medium-low heat until they are fragrant. Set aside.
Put the oats and dry fry for 3 mins. Turn the oats occasionally to make sure they cook evenly.
Add the sunflower and pumpkin seeds and dry fry for another 2 minutes or until light golden. Take care – the pumpkin seeds may pop a little!
Return the roasted black and white sesame seeds to the pan and dry fry for ½ min.
Take the pan off the heat. Stir in the honey – it will sizzle at first but keep stirring until the oats and seeds are coated. Allow to cool slightly.
Line a 20cm x 10cm baking tin with greaseproof paper.
Spread the mixture evenly on the paper and line another one on top of the mixture.
Use a presser (or chopping board) to apply pressure to the mixture.
Chill for at least 1 hour, or until solid. Turn it out of the tin and peel off the greaseproof paper. If you have problem to peel off the paper, leave it at room temperature for 1 min and try again. Cut into bars.
Keep it in an air-tight container and store in the fridge. Best to be consumed within a week.

Note: The combination of oats and seeds is subject to personal preference.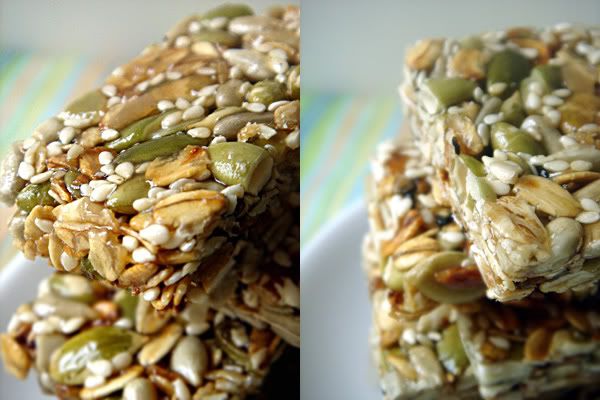 I am submitting this recipe to Vegetarian Thanksgiving Recipe Carnival hosted by Fun and Food Cafe.