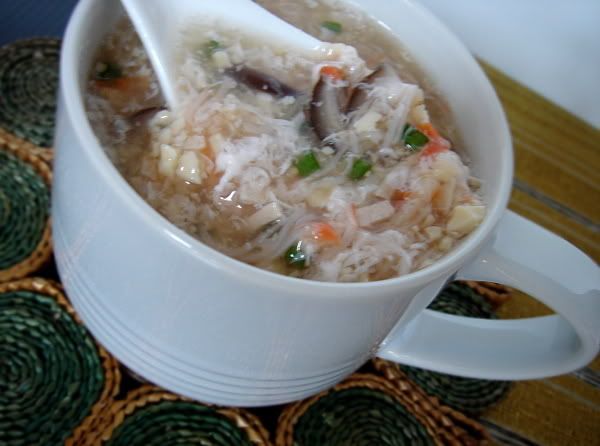 My hubby loved this soup so much that after drinking the soup, he also took an extra portion to mix with his rice so as to give him a "braised rice" flavour.
This recipe is adapted from Hawker's Fair Simplified cookbook.
Ingredients:
1 piece soft beancurd – mashed into puree (it can be substituted with egg bean curb or homemade beancurd)
1 fresh squid (about 200g) – julienned
6 crab sticks – julienned
2 pieces ham – julienned
3 black mushrooms – soaked and julienned
6 water chestnuts – peeled and julienned
2 egg whites
1500ml stock (上汤)
Seasonings:
1 tbsp light soya sauce
1 tbsp shaoxing cooking wine
1 tsp oyster sauce
1 tsp sesame oil
1 tsp salt
dash of pepper and chicken stock granules
3 tbsp corn flour (mixed with 5 tbsp water for thickening)
1 tbsp chopped spring onion
Methods:
1. Bring stock to boil. Put in all ingredients, seasonings and bring to boil.
2. Add in corn flour water and mix well. Then add in egg whites, mix well and remove from heat.
3. Dish soup into individual serving bowl, sprinkle chopped spring onion on top and serve with black vinegar if desired.
Note:
I had made some slight modifications to the ingredients used because I need to clear some of my stocks in the fridge.
Ingredients (my version):
1 tube Japanese egg beancurd ( 150g) – mashed into puree
5 water chestnuts – peeled and julienned
5 fresh shiitake mushrooms – blanched over boiling water, julienned
2 slices bacon flavour vegetarian ham – julienned
120g surimi crab legs (imitation of crab legs) – julienned (I think it will taste even better if use original crab meat because of its textures and taste)
3 egg whites
1100 ml stocks (I use chicken bones to boil the soup first)

I had replaced chicken stock granules with some concentrated chicken stocks. Before adding egg whites, you may also need to adjust the seasonings according to your own preference if neccessary.